Ford Mobile Service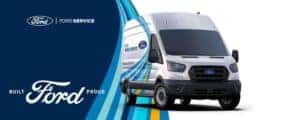 Ford Mobile Service
Ford Mobile Service brings vehicle maintenance and service to your front door. Unlocking new levels of convenience, Ford's latest mobile service goes wherever the customer might be. Technicians can now show up at your home or office and service your car on location, freeing you from having to visit the dealership. Keep your vehicle working as hard as you do and let NYE Ford bring the Ford Mobile Service to you!
How it Works
Ford made the Mobile Service as simple as possible, outfitting Transit vans with everything a technician may need for the majority of basic services. The vans include a full set of parts and tools needed for whatever services customers scheduled. Oil changes, tire changes, battery changes, brake jobs, and even software updates are some of the most common services performed by the technicians of Ford Mobile Service.
Spending time in the service bay's waiting area is a thing of the past with Ford Mobile Service. The benefits of purchasing a Ford vehicle from NYE Ford don't disappear when you drive off the lot as this latest Mobile Service program is dedicated to take the experience of Ford drivers above and beyond.
Maintenance, Recalls and Minor Repair Services Available
Oil Change

Brake Service

Battery Replacement

Tire Rotation

Lamps and Bulbs

Filter Replacement

Software Updates

Minor Recalls

Fluids & Much More
Ford Mobile Service at NYE Ford
Let us service your car, truck or van in the Oneida area! Contact us at NYE Ford for additional information and to see if your car qualifies for the Ford Mobile Service. Reach out to our service department via 315-693-4070 or contact our Ford Mobile Service team members!